When COVID-19 forced PACE to shift exclusively to in-home and virtual services for New Orleans seniors, the staff was ready to quickly adapt and pivot.
"The whole model of PACE is flexibility and individualized care," said Trisha Ventura, a PACE occupational therapist. "Our executive director always says we are not a cookie-cutter service. We're constantly adapting and changing, so it has not been a tremendously difficult transition for us."
PACE is an affiliated ministry of Catholic Charities Archdiocese of New Orleans. Its mission is to enable older adults to live in their homes and in the community as long as it is medically and socially feasible to do so. The PACE comprehensive healthcare program includes physician care, medications, rehabilitative therapy, personal care services, transportation, meal delivery and nutrition counseling.
Previously, some of these services took place at PACE group facilities. But since the pandemic began, those services have shifted to participants' homes. Meals are delivered four days a week to individuals who are signed up for the service. This means participants are guaranteed to receive full, nutritious meals several times a week while also having someone check on them and their home environment.
"I'm bringing people food, but I also get to see how they are living and interact with them," said Jenry Schorling, a PACE registered dietician. "If I see something that's worrisome, I can bring those health concerns and that information back to the team. I've definitely connected with some people in particular, and their appreciation has spoken volumes to me."
Physical therapists, occupational therapists and certified nursing assistants now make home visits.
"We used to provide some therapy services in the center and some during visits to the home," Ventura said. "We have had to increase those home visits tremendously since COVID. Now we go in and not only do therapy, but general wellness in the home. We'll get them on an exercise program they can do at home or teach their caregiver the strategies to get them moving and keep them moving."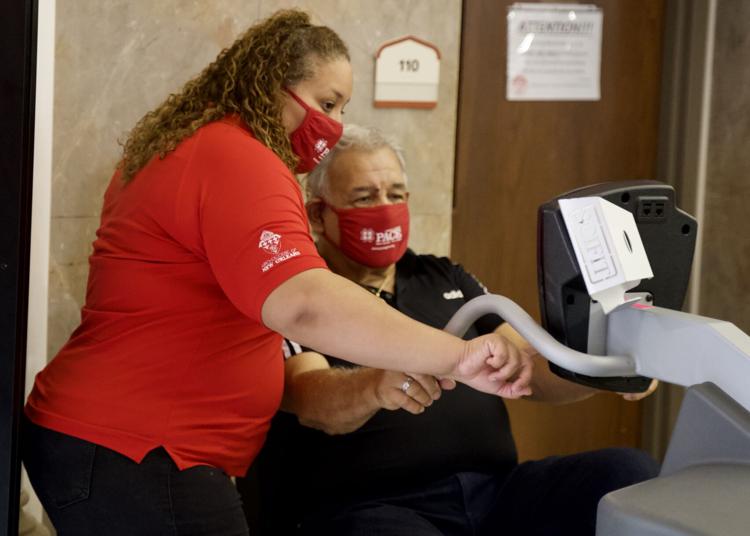 Rather than in-person group classes, recreational therapists have been hosting virtual classes on Zoom featuring tai chi, memory games and more. A chaplain provides a pastoral ministry at least once a week, leads prayers on Zoom and often calls and prays with participants over the phone.
"The virtual classes have actually increased socialization because they are able to see other participants in the Zoom meeting," said Joanne Ault, the PACE lead social worker.
In fact, Ventura has seen some people who resisted the idea of in-person classes now joining Zoom classes, both for physical activity and social interaction.
"I've been working with one man who never came to our centers. We always encouraged him because we felt like he needed socialization and engagement," Ventura said. "We kept urging him to start tai chi and meditation classes. Now he is on there almost every day and he loves it. This has probably opened up some of the center offerings that he never would have engaged in before, so that's really exciting."
Ault said one major concern for PACE staff was that participants would be especially isolated and lonely because of less interaction with family and friends. So, the staff has stepped up and gone the extra mile to make sure everyone feels as connected as possible.
"I have people who I call daily because I know they are so isolated," Ault said. "There are four of us doing that. There have been times when another staff member will tell me to check in with someone who seemed sad or looked like they needed extra attention. That development of our team has grown stronger, as well as our relationships with our caregivers and participants."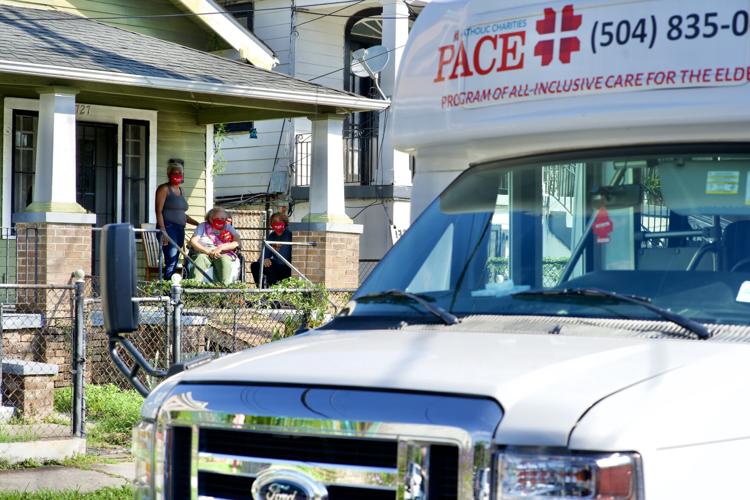 Many PACE staff have formed deep bonds with caregivers and participants during this time. Ventura said she has been working with a caregiver who has slowly begun to realize that her mother can no longer live independently.
"We've been providing her with a lot of social support because this is a very difficult time," she said. "The caregiver has a lot of uncertainty in her own life. It's so much for her to take on right now. I've been working with her to understand what her mom is capable of and support her mom's needs. Joanne has been there to guide and support the caregiver during this journey. The PACE model has allowed us to come in and help this family at a time when they are in need."
Ault said she has been especially moved as she works with a family through an end-of-life journey. One member of the family applauded Ault for being a major source of comfort during this time.
"It's really about connecting with people and touching their lives, whether you're seeing them in person or making phone calls," Ault said. "Knowing that they are not alone in this has made a real impact."
Moving forward, the PACE team will likely use more of a hybrid model of virtual services, in-home visits and in-person group activities once COVID restrictions are lifted. Ventura said the experience has taught them how to better reach participants in multiple ways.
"I can't imagine it will ever be exactly like it was before," Ventura said. "Getting together is going to be very important, but we also now have new ways to reach participants, caregivers and anyone in need."
For more information on PACE services, visit www.pacegno.org or call 504-835-0006.